Documenting Long Covid symptoms and other health measurements is important for self advocacy and managing the illness. Thankfully there are a lot of apps to help with Long Covid. These apps include health diaries, symptom trackers, heart rate variability and heart rate trackers, meditation apps and sleep apps. Which ones you use depends on your individual circumstances. Here we list some of the available apps and recommend a couple.
NOTE: I was not paid to promote the apps listed here. They are either personal recommendations or what other people have suggested. Or else, they're just listed because they might be useful.
Symptom Trackers
Symptom tracker apps are essentially diaries that allow you to keep track of a variety of health measurements over time. The benefit of an app means it is all set up for you so it's easy to add the data. The app can then make correlations and turn your data into graphs. For more info see the Documentation page. Here are the best symptom tracker apps for Long Covid.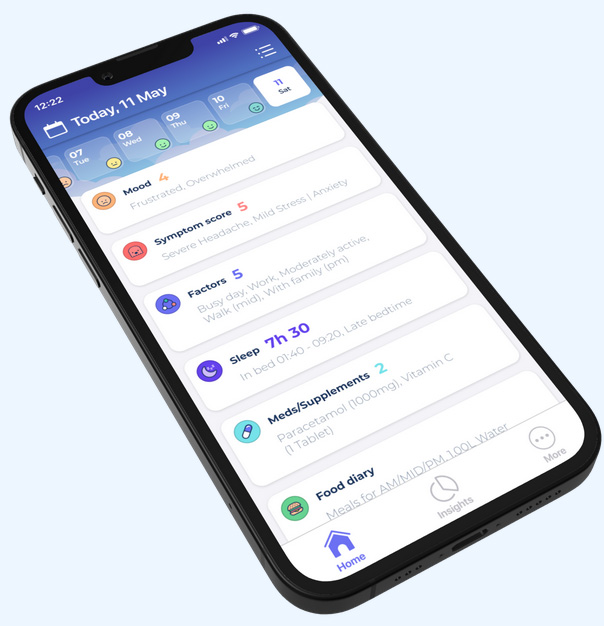 Bearable (recommended). This community-driven app offers a handy way to keep track of your symptoms and factors on your phone. It's very customizable and allows you to add your own entries for symptoms, factors etc on top of the already extensive listings. The insight section allows you to track symptoms over time periods (30 days, 90 days, a month, a year) and create graphs that compare two symptoms or various factors with symptoms. Bearable doesn't sell your data and is encrypted so only you can read your data. You can export the info as a CSV file for use in a spreadsheet or other database. The developer regularly asks users what they want to add or change so the app is constantly being improved. The customization aspect makes this app ideal for Long Covid as it can be adapted to your own individual circumstances. On IOS and Android. The simple version of the app is free. A more detailed version has a monthly or yearly fee.
Advertisement
The Geek's Guide To Long Covid is available as an ebook!
You'll find a comprehensive guide to using wearables, apps and technology to cope with Long Covid. It offers detailed instructions on pacing, heart rate monitoring, HRV, POTS, deep breathing, tVNS, air purifiers, CO2 monitors and lots more.
Available from Amazon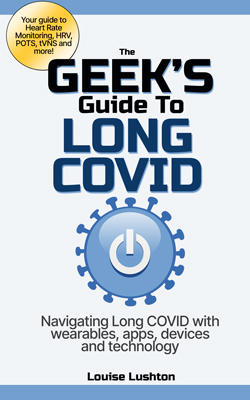 Visible. This free app was launched in November 2022 and is currently in Beta. It was created by a person with Long Covid and aims to help you keep track of symptoms, crashes, activity and health measurements. It's aimed specifically at Long Covid and ME/CFS patients. The app lets you decide what symptoms you want to track and allows you to track trends over time. Interestingly, it has a a heart rate and HRV tracker built-in and encourages you to take a morning HR and HRV reading to give an indication of your daily health status. It uses the phone camera for this. An upcoming "Visible Plus" feature will pair the app with a Polar chest strap or other Polar devices and the site says it will help with pacing, measure orthostatic intolerance among other things. The app collects identifiable data so be aware if you have privacy concerns. Android and IOS.
Flaredown. This is a totally free app originally created through crowdfunding. It's aimed at symptom tracking for chronic disease patients. You can add your own list of symptoms or use pre-set lists. You then add triggers and treatments like activity and medications to see what makes things better or worse. You can export the data to show your doctor. The app keeps all information private so you're the only one who sees it. Android and IOS
Care Clinic Tracker. This is a freemium app is meant to co-ordinate data sharing between patients and their medical team. It offers symptom tracking, care plans, an appointment calendar, reminders, health records and notes. It integrates with Apple Health, Google and some wearables. You can create graphs and make correlations using your data. The data is encrypted but the company does use some of your data so check the privacy settings. Android and IOS.
Patient Strength Long Covid Diary. This app is the creation of a German company and is primarily aimed at German and Swiss consumers. However, anyone can use it. You can switch the language from German to English after download by clicking on the bottom right icon (Mehr), clicking "Einstellungen" (Settings) and changing "Sprache" (Language) to English. The app offers a daily diary where you can record symptoms, food, exhaustion, activities and check health data (heart rate, steps, floors etc). The app seeks to link with Apple Health which will provide that data, though it seems you can't add it manually. You're able to add days previous to your first recorded day as well. The app will provide analysis of results over time. It's a relatively simple app but it's free and all information is kept private and not sold or used by anyone apart from you. Android and IOS
Apollo CFS (Beta). Apollo CFS app is currently still in beta testing and is designed for people with ME/CFS so it's not specific to Long Covid. However it may be useful for those whose symptoms resemble ME/CFS, especially those with post exertional malaise. The app lets you set up a daily routine of meds, activities and factors and then you are encouraged to note if things were helpful or not. You'll need an email to sign up for the beta app. Note: the app website is expired, check the Google Play store.
Responsum for Long Covid. This commercial app offers information on Long Covid, a community for comparing notes and a "Patient One Sheet" that allows you to enter basic info like medications, doctor appointments and other data. The app is less for tracking symptoms and more for info. The app is commercial and collects user data so be aware of the privacy implications.
TIGYA: Time Is Your Greatest Asset. This is a time-tracking app that can be adapted to tracking your health and daily activities. It promotes itself as a useful tool for pacing and has a built-in preset called "Long Haul After Virus". The app presents visual representations of your day via colour-coded bars and also lets you see correlations between time, activities and medication. The app is Android only.
Cormeum. This app is specifically designed for people with heart failure but you may want to adapt it if your Long Covid symptoms are heart-related. It lets you track symptoms, sodium intake, medications, blood pressure, fluid intake, weight, food and more. It's free for 14 days then has a one-time cost. Available on IOS and Android.
You'll also find a number of other symptom tracker apps online by typing "symptom tracker" into the search bar of your app store. Most of them are "freemium" apps where you can use a limited version for free but need to pay for more advanced solutions. Many of these trackers are commercial and may use or sell your data so be aware of your privacy when downloading these.
Heart Rate Trackers
Heart rate monitoring is a method of pacing where you keep your heart rate under a certain number of beats per minute. Some of these apps can help with that.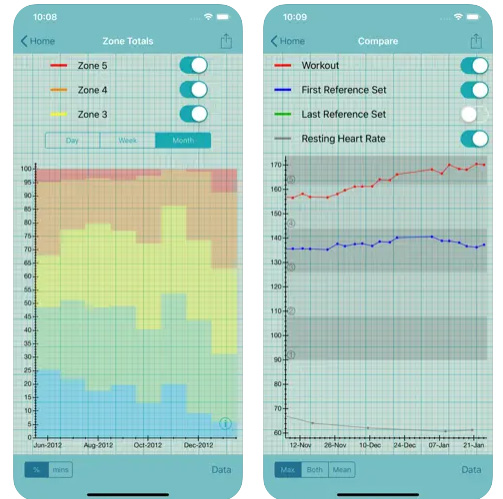 Heart Graph. This app uses bluetooth to sync with devices like the Polar 10 chest strap or Apple Watch. The free version gives a basic real-time graph of your heart rate. The (relatively cheap) paid version gives you a heart rate alarm if you go over a set bpm, the ability to see the amount of time spent in zones, annotations, graph comparisons and more. Heart Graph is recommended by many who use heart rate monitoring to pace. This app is also very useful if you need to document orthostatic intolerance.
Cardiograph. This is a free heart rate tracking app that uses your phone's camera to measure your heart rate. It provides ECG-type cardiographs which show each heartbeat over time. These can be saved and exported to PDF or printed to share with your doctor. The iPhone version can also incorporate data from Apple Health. This app might be useful if you have palpitations or arrythmias. Also available on Google / Android.
Kardia. Kardia is a personal mobile ECG (electrocardiogram) device that uses a mobile phone and a special pad to collect heart rate data. The pad attaches to the back of your phone and the app interprets the pulse in your fingertips, turning it into medical-grade ECG data. It also tracks blood pressure data. This can be exported and shown to your doctor. The pad runs on a 3V coin battery and costs around $200. The app is free and runs on both IOS and Android. The app and device are designed for people with arrythmias and tachy- or bradycardia but it may be of use to people with Long Covid who have heart problems.
Heart Rate Variability (HRV) Trackers
Heart rate variability (HRV) is a useful indicator of how well your body is coping with stress. It's a way of measuring the autonomic nervous system. When pacing, it can give an idea of an impending crash or show improvement. Here are the best HRV tracking apps for Long Covid.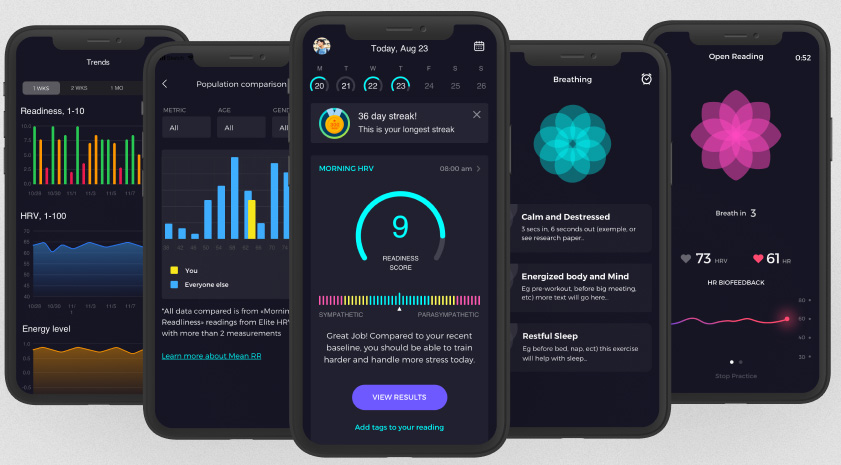 Elite HRV. Elite is a free app that lets use measure heart rate variability using either a Polar 10 chest strap or your finger over the phone's camera flash. Elite provides a bunch of HRV data from both the time-domain and frequency-domain measurements. e.g. RMSSD, SDNN, LN (RMSSD), PNN50, mean RR interval, COV, Total power, LF/HF ratio/power/peak. It then interprets this data and builds up an individual profile of your HRV and autonomic nervous system. It's morning reading gives a score judging if your system is balanced or experiencing a sympathetic or parasympathetic swing. This can give an idea of how your body is coping with stress and whether you will have good energy for the day or should take it easy. The app also offers breathing exercises with biofeedback so you can see how deep breathing improves your HRV. The fact that it's free and can be used without other equipment makes Elite a good option for those new to tracking HRV.
HRV4Training. Another very useful HRV app that can be used without a wearable (finger over camera), though it also pairs with Polar H10, the Apple Watch and Oura Rings. The people behind HRV4Training have done a lot of research into HRV and brought it into their app, aiming to make it very accurate. The app is aimed at the fitness market but you can use it for health purposes. It measures HRV and gives a "readiness" score after building up information about your general HRV status. It also lets you input other data to help correlate factors (e.g. alcohol or hard training). The app has a one-off price which is fairly affordable. It keeps some data.
Welltory. Welltory is a big name heart rate tracking app that can sync with multiple wearables including Garmin, Fitbit and Apple Watches. It also uses the finger-on-the-camera method, though this is less accurate. This app tracks heart rate variability (HRV), blood pressure, heart rate, stress and sleep. It compiles data over time to give a wellness score for each day. Most of the useful aspects of this app require a paid subscription. The app collects data so be aware if privacy is a concern.
SweetBeat HRV. SweetBeat is a paid app that requires an external heart rate monitor strap like a Polar H10 or Wahoo Tickr. It mainly focuses on HRV and stress, though it also syncs with Apple Health to look at diet and food sensitivity. It is able to correlate any date you feed it into health and fitness insights.
Athlytic AI Fitness Coach. This app is aimed at the fitness market but can be adapted for heart rate and HRV monitoring. It is mainly designed to work with Apple Watch and obtains its data that way. The app analyzes your Apple Health data including sleep, HRV and heart rate, Sp02, energy, calories and more. It converts these into summaries that can be used to assess fitness and recovery status. The app is subscription based. It does not collect data which is good for privacy.
Pulse Oximetry. This paid app works with Bluetooth enabled Pulse oximetry devices (which need to be purchased separately). The app creates useful graphs, has an alarm setting, records data up to 10 hours. This app can be useful if you need to record SP02 data over time for presentation to a doctor. The app does not collect data which is good for privacy.
Note: You'll find info on HRV Biofeedback / Breathing Apps on the Deep Breathing for Long Covid page.
Meditation Apps
Long Covid is a stressful and upsetting experience. Many people suffer dysautonomia as part of their Long Covid symptoms. Meditation can help relax you and allow you to better cope with your illness. It can also switch your autonomic nervous symptom into a more parasympathetic, "rest and digest" mode. Here are some of the best meditation apps for Long Covid.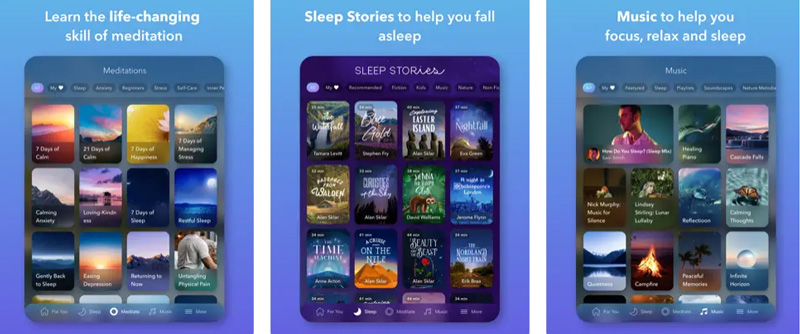 Calm. This is one of the best-known meditation apps. It features a large selection of pre-recorded guided meditation sessions including plenty for beginners. There's also sleep stories, music, nature sounds, classes and content for kids. The app features meditations and stories recorded by some big name stars, if that's your thing. Subscription is yearly. The app keeps a lot of data so be aware if you have privacy concerns.
Balance. Currently offering a year's free subscription, Balance is an app that adapts and personalises its guided meditations. It does this using feedback you give it regarding your goals, how you feel on a particular day and what strategies you prefer. The app offers a sequential course for beginners along with meditations designed for particular times of day or moods. It has two main coaches who voice the various selections. The app collects a lot of data so be aware.
Headspace. Another meditation app, Headspace offers guided meditations, sleep sessions and fitness sessions designed to improve mood. It also has mini-sessions if you're short of time and can be synced with Apple Health. It's subscription based, monthly or yearly. It collects a lot of data.
Insight Timer. This app has a lot of free content but also offers a premium option if you want to listen offline or pursue more advanced sessions. Along with guided meditations, some by celebrities, there's deep breathing, sleep sessions, music, kids content as well as educational talks. This app is inclusive of spiritual types of meditation like Buddhist mindfulness, Zen, Kundalini yoga and others, along with secular mindfulness. The app collects a lot of data.
Inner Balance. This app is a little different to a meditation app. It only works with an ear clip that connects to your phone. This clip measures your heart rate and HRV response and aims to "teach you how to shift your emotional state in the moment – so you feel better and think more clearly." It gives you a visual aid on the phone that encourages you to breathe and calm your mind. The image gives feedback as to how you're going via the clip on your ear. The app says its backed by over 400 scientific studies. The app is free but the clip can be expensive. It collects some data.
Sleep Apps
Insomnia is a common symptom of Long Covid. There are a few apps that help your track your sleep and optimize your sleeping situation. Here's some of the best sleeping apps for Long Covid.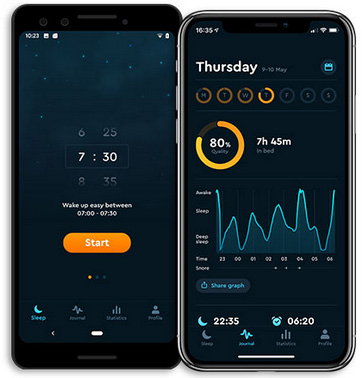 Sleep Cycle. This app is both an alarm clock and a sleep tracker. It relies on sound and AI technology to estimate your sleep stages, although it can also use the Apple Watch (which will probably be more accurate). The app estimates your time in deep, light and REM sleep after listening to you all night. It also can set an alarm to wake you during your lightest sleep within a 30 minute wakeup window. The premium edition can record sleep sounds, offers guided meditations and measure heart rate. The app collects a lot of data.
SleepWatch. Sleepwatch is designed to work with Apple Watch but you can also use your iPhone (there's no Android option). The phone option relies on sound. The app tracks sleep time, sleep rhythms, heart rate, sleeping HRV, sleep disruptions and blood oxygen. It can also track sleep sounds and snoring and it has an alarm to wake you at the best time. The app is mostly free but has premium options at a relatively low cost. It collects some data.
Sleepio. This is an app that offers a cognitive behavioural therapy course designed specifically to help with insomnia. It's an evidence-based course that offers 6 20 minute sessions with a "virtual sleep expert". It's only available through health insurance in the USA and to people who live in Scotland.
Breathing Apps
Along with meditation, breathing exercises can help calm the mind and switch the autonomic nervous system into parasympathetic mode, reducing stress. They may also help with breathing problems and shortness of breath.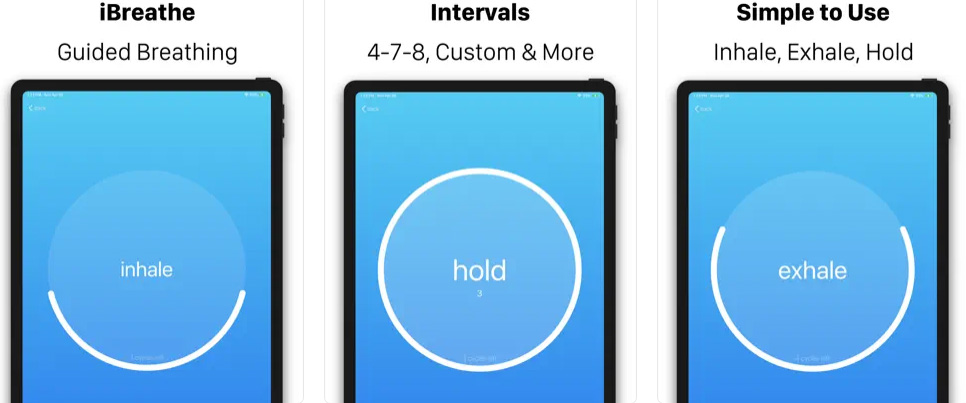 IBreathe. This is a very simple free app that guides you through basic breathing exercises (e.g. 4-7-8: four breaths in, hold for seven, exhale for eight). The screen gives a visual guide of when to breathe in an out and you can add custom breathing intervals. It integrates with Apple Health. The app retains some data. It seems to be Apple only.
Breathwrk. This app says it has the largest library of breathing exercises and classes available. It has exercises aimed at anxiety, pain relief, calm, sleep and many more. It syncs with Apple Health, has a breath counter, breath hold and exhale timers and custom reminders. The app retains a lot of data so be aware if you have privacy concerns. Available on IOS or Android.
Many of the meditation apps listed above also have breathwork sessions. Elite HRV has a breathwork component offering a number of guided sessions with biofeedback to see how it improves your HRV.
You'll find more breathing apps and info on the Deep Breathing Exercises for Long Covid page.
Other Apps
Fit Mask. Wearing a good N95/KN95/P2 face mask is a vital part of preventing Covid transmission. The Fit Mask app uses facial recognition technology to measure your face and recommend the best type of mask. It takes a photo of your face and uses that to create accurate measurements. The app does not collect any data. Only available in IOS.
Privacy Note
The Washington Post did an investigation into health app privacy:
Health apps share your concerns with advertisers. HIPAA can't stop it.
"What we learned was that several popular Android health apps including Drugs.com Medication Guide, WebMD: Symptom Checker and Period Calendar Period Tracker gave advertisers the information they'd need to market to people or groups of consumers based on their health concerns.
"The Drugs.com Android app, for example, sent data to more than 100 outside entities including advertising companies, DuckDuckGo said. Terms inside those data transfers included "herpes," "HIV," "adderall" (a drug to treat attention-deficit/hyperactivity disorder), "diabetes" and "pregnancy." These keywords came alongside device identifiers, which raise questions about privacy and targeting."
This is a reminder to check the privacy and data sharing information before downloading any health app.