Every day we learn more. There's a lot of Long Covid resources online to help you navigate through the illness. Here's a list of useful sites offering support, information, research and news on Long Covid.
Patient-Focused Sites, Advocacy and Support Groups
Survivor Corps – A patient-led movement focused on support, research, sharing information and education. Lots of really useful info on this site, worth checking out.
The Long Covid Alliance – A network of patient advocates, scientists and researchers. Lots of info plus ongoing research.
Covid Care Group – This is a commercial site with a lot of useful info. It has a focus on mast cell issues and antihistamines. It also runs this Facebook group.
Body Politic – Originally a queer feminist wellness collective, Body Politic now has a major focus on helping people with Long Covid, focusing on health advocacy
COVID-19 Long-Haulers Discussion Group – Facebook group
COVID-19 Long Haul Advocacy Project – Facebook group
Long Covid Kids – A UK-based group for children affected by Long Covid.
Research and Medical Sites
Advertisement
The Geek's Guide To Long Covid is available as an ebook!
You'll find a comprehensive guide to using wearables, apps and technology to cope with Long Covid. It offers detailed instructions on pacing, heart rate monitoring, HRV, POTS, deep breathing, tVNS, air purifiers, CO2 monitors and lots more.
Available from Amazon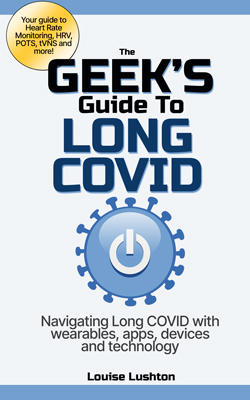 Royal Society of Medicine COVID-19 Learning Centre – UK Doctor site on Covid
RECOVER – Research and info site.
PHOSP-COVID – Studying the post-hospitalization outcomes of COVID-19 patients and Long Covid.
Patient-Led Research Collaborative – An arm of Body Politic, this is a group of researchers who also have Long Covid and are doing research into the illness.
Chartered Society of Physiotherapy Long Covid Resource page – Physio-based info including employment resources.
Long Covid Physio – Physiotherapy based info
Coping With Long Covid
Health Rising's Tips For Long Covid Newbies
CFS Self Help Pacing Tutorial
How To Get On – Tips for living a disabled life.
US Guidance on Long Covid and Disability
10 Salty Facts for POTS Patients
And of course check out our pages on:
Wearables, Devices and Watches for Long Covid
Best Apps for Long Covid
Heart Rate Monitoring for Long Covid
HRV Tracking for Long Covid
Pacing For Long Covid
Long Covid POTS and OI

For the latest research on Long Covid and the pandemic in general, please visit:
Violet Blue's Weekly Pandemic Roundup