A compilation the latest news items about Long Covid
April 2023
Ohio woman brought to tears tasting coffee after two-year battle with long COVID, Yahoo News, 7 April 2023. "She worked with other specialists at the clinic to perform a stellate ganglion block procedure on Henderson, injecting medication into nerves at the bottom front side of her neck."
Many Long COVID Patients Have Sleep Problems: Study, WebMD, 6 April 2023. "Four in 10 people with long COVID had moderate to severe sleep problems, and Black people with the condition were  much more likely to have serious sleep issues, a new study found. "
Advertisement
The Geek's Guide To Long Covid is available as an ebook!
You'll find a comprehensive guide to using wearables, apps and technology to cope with Long Covid. It offers detailed instructions on pacing, heart rate monitoring, HRV, POTS, deep breathing, tVNS, air purifiers, CO2 monitors and lots more.
Available from Amazon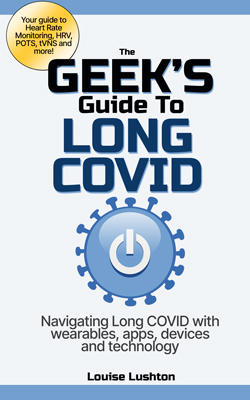 What does long COVID do to kids? What we've learned after a year of research, USA Today, 5 April 2023. Average age is 13, lung problems less likely, the most common symptom is fatigue and post exertional malaise. On average, kids experience about 10 symptoms. The majority of kids eventually recover.
Long COVID Is Making Some People Choose Not to Have Kids, Time, 4 April 2023
People with smell disorders may get relief with an experimental treatment, NBCNews, 1 April 2023. Stellate Ganglion Block may help with loss of smell.
March 2023
Long COVID exercise trials proposed by NIH raise alarm, Nature, 31 March 2023. "Advocates ask the US biomedical agency to rethink the design of its RECOVER initiative, citing possible harm and funding waste."
These are the people at higher risk for long COVID, according to a massive new study, Fortune, 24 March 2023. " Women, Over 40, People with obesity, Smokers, Those who were immunosuppressed before COVID, People who were hospitalized with COVID, People who had the following conditions before COVID: anxiety or depression, diabetes, asthma or COPD"
Vaccination, Paxlovid decrease risk of long Covid, studies show, CNN, 23 March 2023. "A study published Thursday in JAMA Internal Medicine analyzed data from 41 studies, including more 860,000 people around the world. Of the four studies with vaccination information of nearly 250,000 people, those who had been vaccinated against Covid-19 had almost half the risk of long Covid than people who weren't vaccinated."
Can an Addiction Drug Treat Long Covid?, Rolling Stone, 22 March 2023. Article on low dose Naltrexone.
People who catch Omicron are less likely to get Long Covid, Science, 21 March 2023. "…several studies have shown a decline in risk, although they disagree about the absolute numbers. The definition of Long Covid is still in flux, study designs differ, and the frequency with which Long Covid symptoms such as brain fog and intense fatigue also strike uninfected people isn't known, making it tougher to glean the prevalence of Long Covid today."
7T MRI Shows Brain Associations Between Long COVID and Chronic Fatigue Syndrome, Laboratory Equipment, 20 March 2023. "Researchers used the world's strongest MRI to conduct the first study of patients suffering from long COVID and chronic fatigue syndrome. The MRI showed similarities in the brainstem and midbrain volumes between the two groups."
Biomarkers that can predict long COVID symptoms, News Medical, 19 March 2023. "Several biomarkers were found to correlate with different PASC symptoms at T3. For example, patients who had previously received steroid treatment during the acute disease exhibited lower cortisol levels at T1 and T2 but not T3."
Researchers Are Getting Closer to Learning How to Treat and Prevent Long COVID, Time, 16 March 2023."Researchers have found promising (though preliminary) signs that certain drugs may reduce the risk of developing Long COVID, and possibly even ease symptoms among people who are already sick."
Experts launch new online resource to support people with Long Covid and improve care, News Medical, 15 March 2015. Uni of Stirling launches site Long Covid In Adults.
Recruiting: Clinical trial – Paxlovid for Treatment of Long Covid (STOP-PASC) "The purpose of this study is to compare whether being treated with Paxlovid (nirmatrelvir plus ritonavir) for 15 days works better than being treated with placebo (plus ritonavir) to reduce severe symptoms of Long Covid (the placebo does not have any active drug)." Also: Yale Paxlovid Trial recruiting page.
Long COVID: 3 years in, The Lancet, 11 March 2023. "Long COVID is estimated to occur in 10–20% of cases and affects people of all ages, including children, with most cases occurring in patients with mild acute illness. The consequence is widespread global harm to people's health, wellbeing, and livelihoods—an estimated one in ten people who develop long COVID stop working, resulting in extensive economic losses. In 2021, we called for a coordinated research and health-care agenda to tackle this new medical challenge. However, progress has been excruciatingly slow due to lack of attention and resources."
Long COVID Takes Toll on Already Stretched Health Care Workforce, WebMD, 6 March 2023. "The system has lost 20% of its workforce over the course of the pandemic, with hospital understaffing at hospitals resulting in burnout and fatigue among frontline medical professionals, according to the U.S. Bureau of Labor Statistics."
'We are struggling': doctors faced with vacuum of information on long Covid, The Guardian, 6 March 2023. "More than three years into the Covid pandemic, there are a host of important unanswered questions about long Covid, which significantly limit healthcare providers' ability to treat patients with the condition, according to US physicians and scientists."
YouTuber "Physics Girl" dealing with long COVID as her sister helps from Denver, CBS, 5 March 2023. "Dianna Cowern, also known as "Physics Girl" on social media, has been dealing with chronic fatigue and other symptoms for nine months. She has a severe case of long COVID — experiencing symptoms long after an initial COVID infection."
February 2023
Orthostatic tachycardia after covid-19, BMJ, 24 February 2023 – British Medical Journal advice to doctors on how to treat POTS
Researchers say organ impairment affects 60% of people with long COVID, Fortune, 15 February 2023. "Nearly 60% of patients with long COVID had organ impairment a year after catching the sometimes deadly disease, according to a new study released Tuesday by the Journal of the Royal Society of Medicine."
Long COVID Now Looks like a Neurological Disease, Helping Doctors to Focus Treatments, Scientific American, 14 February 2023
Long COVID or Functional Neurological Disorder? MedPage Today, 14 February 2023. "The hypothesis that long COVID might be related to a functional neurological disorder (FND) remains untested, a systematic review showed."
The Future of Long Covid, The Atlantic, 13 February 2023
Over 50% of cancer patients report long COVID symptoms after recovering from COVID-19, News Medical, 13 February 2023
Warning: Infuriating headline: Good News: Most Long COVID Effects Resolve Within a Year After a Mild Infection, Sci Tech Daily, 13 February 2023
16% of all North Carolinians have long COVID, Independent Tribune, 11 February 2023
I tried the new test for long Covid, The Times, 7 February 2023 (Paywall). "US-based diagnostics company IncellDx [has] created what it claims is the first definitive test for long Covid. Apparently, this simple blood test, which was recently approved by European regulatory bodies and has been launched on the Continent, uses artificial intelligence… [and claims over] 90% accuracy… In my case it takes nearly a month for results to come back. To get them I also have to navigate a homepage in Spanish and fill out numerous documents several times… I am told my immune profile is exactly that of the 'pure' long Covid group… I'm surprised to hear this since I've been feeling much better for quite some time." (Article quote via Violet Blue's Pandemic Roundup)
Long COVID clinics and patients in limbo after federal funding expires, The Sydney Morning Herald, 5 February 2023
What are the existing support models for caregivers and patients with long COVID? News Medical, 3 February 2023. Study offers a guide to various clinical guidelines for Long Covid.
Long COVID: a range of diets are said to help manage symptoms – here's what the evidence tells us, The Conversation, 1 February 2023. Looks at the evidence for: the anti-inflammatory diet, low histamine diet, plant-based diet.
January 2023
Long COVID Linked To Just 7 Symptoms, Scientists Surprised To Find, IFL Science, 31 January 2023. "Only seven symptoms can be specifically linked to long COVID, according to the results of new study in over 50,000 patients. The analysis found that for up to a year post-COVID, specifically, people were more likely to develop heart palpitations, hair loss, fatigue, chest pain, shortness of breath, joint pain, and obesity."
Disruption of the blood-brain barrier due to long COVID, News Medical, 27 January 2023. "In a recent study posted to the Research Square* preprint server, researchers explored the destruction of the blood-brain barrier (BBB) due to cognitive impairment associated with long coronavirus disease (COVID)."
Colin Farrell Reveals He Suffered Long Covid Symptoms for Six Months, Yahoo, 30 January 2023. "I'm going to do very little now for the next while," Farrell said, adding, "the first time I went out about a week after testing negative and I started running again and I messed myself up and got the long COVID for about six months."
The covid-19 virus gets into the brain – what does it do there?, New Scientist, 25 January 2023
The New Republic Has Long Covid All Wrong, Public Herald, 25 January 2023. "On January 9th, over 200 journalists, researchers, physicians, and people living with Long Covid, Myalgic Encephalomyelitis (ME/CFS), and other infection-associated illnesses sent the following letter to the progressive publication, The New Republic, demanding extensive corrections and an apology for the misinformation spread by columnist Natalie Shure."
Long Covid Is Keeping Significant Numbers of People Out of Work, Study Finds, New York Times, 24 January 2023. "More than a year after contracting the coronavirus, 18 percent of long Covid patients had still not returned to work, more than three-fourths of them younger than 60, the analysis found"
Heart symptoms persist in 10% of patients with long-COVID, News Medical, 22 January 2023. Summary of preprint study. "The study findings highlighted a variety of heart symptom presentations observed after COVID-19, many of which might endure for months or even a year"
Leading COVID expert says not enough is being done to help long haulers: "People are desperate, they need treatments", Fortune, 21 January 2023. Great overview and comments by Eric Topol.
'I really miss school': 71,000 children in UK struggling with long Covid, itvx, 20 January 2023
Analysis of seemingly recovered COVID-19 patients indicates that SARS-CoV-2 infection can persist significantly longer than suggested by PCR-negative tests, News Medical, 20 January 2023
Long COVID Might Ruin Booze For You, Buzzfeed, 20 January 2023. "Post-COVID alcohol intolerance has not been studied yet, so no one knows how common it actually is, but interviews with doctors, researchers, and people who are no longer able to drink alcohol suggest it's yet another mysterious symptom that could be a side effect of the viral infection."
Trying to Stop Long COVID Before It Even Starts, The Atlantic, 20 January 2023. "A pair of recent preprint studies, both now under review for publication in scientific journals, hint that two long-COVID-preventing pills might already be on our pharmacy shelves: the antiviral Paxlovid and metformin, an affordable drug commonly used for treating type 2 diabetes."
Survey results indicate nearly 19 million US adults may have long COVID, Healio 18 January 2023. Random phone survey asked people if they'd had Covid and asked if they were experiencing ongoing symptoms.
Long COVID Rehab Program Shows "Impressive" Results, SciTech Daily, 17 January 2023. "the research team says the program, which involves a supervised increase in physical activity, has the potential to be an effective treatment option." Hmm. Graded exercise therapy?
For long covid fatigue, a strategy called 'pacing' helps, but at a cost, Washington Post, 16 January 2023. "Taking a lesson from people with chronic fatigue, many patients with long covid are scaling back daily activity to cope."
Long COVID brain fog: doctors share how they're treating this persistent and puzzling symptom that may impact up to 70% of survivors, Fortune, 16 January 2023. Discussion of various treatments for brain fob, plus a look at the causes.
Research review suggests long COVID may last indefinitely for some people and mimic other ailments, MedicalXpress, 16 January 2023. Review of the Nature Reviews Microbiology study
'We're all vulnerable': One in 10 people will end up with long COVID, new study says, Sydney Morning Herald, 16 January 2023. "It is estimated more than 10 per cent of those who catch COVID-19 will experience chronic health issues, with women aged between 30 and 55 particularly at risk."
Long Covid can be debilitating, even for healthy kids, CNN, 15 January 2023
Long COVID: major findings, mechanisms and recommendations, Nature Reviews Microbiology, 13 January 2023. Overview article. Says 1 in 10 people get Long Covid.
Long covid outcomes at one year after mild SARS-CoV-2 infection: nationwide cohort study, BMJ, 11 January 2023. "Conclusions This nationwide study suggests that patients with mild covid-19 are at risk for a small number of health outcomes, most of which are resolved within a year from diagnosis."
Long COVID: here's what it's like trying to access healthcare for the condition, The Conversation, 10 January 2023. Study identifies five different ways in which people with long COVID engaged (or didn't engage) with the healthcare system.
Could low-dose lithium treat long COVID? UB launches clinical trial to find out, WNY Papers, 6 January 2023. Info on start of a trial, early days.
Researchers Hunt Biomarkers – Potential Keys to Long COVID, WebMD, 6 January 2023. Summary of current research into biomarkers.
Long COVID stemmed from mild cases of COVID-19 in most people, according to a new multicountry study, The Conversation, 6 January 2023. Link to original study in JAMA A metadata study of over 1 million people: "We found that a staggering 90% of people living with long COVID initially experienced only mild illness with COVID-19."
25 per cent of COVID patients become 'long haulers' after 12 months, The Hamilton Spectator, 4 January 2023
Five things to know about Long Covid and chronic fatigue syndrome, Gavi, 4 January 2023.
Scientists discover key reason why long-COVID patients experience long-term smell loss, CTV News, 3 January 2023. "…there was inflammation in the tissue of the nose where the smell nerve cells are located, and that there were also fewer olfactory neurons within the nose overall compared to control groups, which researchers suspect could be due to damage from the inflammation."
December 2022
Finding my way out of the fog, ABC News, 19 December 2022. (Feature story) "Long COVID made me retreat from the world, entering into the realm of invisible illnesses where sufferers are ignored, dismissed and struggle to find the help they need. "
Impressive results with long COVID pacing trial, Leeds University, 16 December 2022. "The research team say the programme, which involves a supervised and gradual increase in physical activity, has the potential to be an effective treatment option… 'The findings of this research are exciting because this is the first time that crashing episodes have been used as a marker for the condition and a structured pacing programme has now been shown to substantially reduce symptoms and improve quality of life.'"
Yale Researchers Discover Possible 'Brain Fog' Treatment for Long COVID, Yale Medicine, 16 December 2022. "Dr. Fesharaki-Zadeh worked with Arnsten and treated 12 patients with a combination of guanfacine and NAC. Eight patients reported significant benefits, including improved memory, multitasking abilities, and organizational skills."
The deadly cost of long Covid, Politico, 14 December 2022. "More than 3,500 Americans have died due, at least in part, to long Covid, according to new data from the CDC released early this morning, Krista reports."
It Isn't Just Long COVID. Post-Viral Illnesses Are More Common Than You Think, Time, 9 December 2022
World's first 4D scan of long COVID lungs changing how doctors diagnose, treat virus, Ksat.com, 9 December 2022. "The XV technology uses a fluoroscopy, which is in all hospitals, but the new software algorithms convert the scans, allowing doctors to see defects caused by long COVID."
Long COVID Research Includes Unprecedented Patient Involvement: NIH, Medscape, 9 December 2022. "Already, long COVID studies funded by this initiative, dubbed RECOVER, have amassed data on more than 200,000 long COVID cases identified in electronic health records. Searching for patterns in these records has helped scientists identify key risk factors for long COVID, as well as some of the most common symptoms. Early analyses of the data already collected should be ready in the first half of 2023, Gibbons said. The scale and size of trials so far is staggering, enrolling about 11,000 patients in a year."
Long COVID-19 Symptoms Associated With Decreased Exercise Capacity, Pulmonary Advisor, 9 December 2022. "In this meta-analysis and systematic review, we found evidence that exercise capacity is reduced after SARS-CoV-2 infection among individuals who have symptoms consistent with LC"
Long Covid is distorting the labor market — and that's bad for the U.S. economy, CNBC, 8 December 2022
COVID-19 vaccines may reduce long-COVID symptoms, News Medical, 8 December 2022. "The meta- study indicates that despite low efficacy, COVID-19 vaccines effectively reduce long-COVID symptoms caused by circulating SARS-CoV-2 variants during the study period."
How does the SARS-CoV-2 virus cause long COVID? Here are some leading theories, ABC, 9 December 2022
Mount Sinai Study Links Molecular Changes to Long COVID a Year After Hospitalization, Mount Sinai Press Release, 8 December 2022. ""Our findings show that molecular processes leading to long COVID are already detectable during COVID-19 infection… Furthermore, we see the start of multiple molecularly distinct paths leading to long COVID, providing a unique viewpoint into differences between long-term symptoms."
Nearly half of COVID patients worldwide still have symptoms after 4 months, according to a giant new study, Fortune, 8 December 2022
Cyclist Chris Froome Is Still Struggling with Long COVID, Bicycling.com, 8 December 2022
Stellate Ganglion Block for Long COVID Symptom Management: A Case Report, Cureus, 7 December 2022. "His symptoms immediately improved the next day after the injection, with the most notable being fatigue and malaise. We then proceeded with a repeat SGB on the contralateral side with the same injectate solution 12 days later, with further improvement in SOB and GI symptoms."
Machine learning analysis suggests that there are four sub-phenotypes of long COVID, News Medical, 6 December 2022. Subtype 1: Renal, circulatory, cardiac illness. Subtype 2: Sleep, anxiety, respiratory disorders. Subtype 3: Disorders of nervous and musculo-skeltal systems. Subtype 4: Respiratory and digestive problems.
Have Long COVID? Newest Booster Vaccines May Help You, WebMD, 5 December 2022.
What Do ADHD, Long Covid And Ehler's Danlos Have In Common? Meet The Mast Cell, Forbes, 3 December 2022
November 2022
Post-COVID-19 syndrome risk factors and further use of health services in East England, PLOS, 30 November 2022. "Female sex and BMI were associated with an increased risk of post-COVID-19 syndrome and further utilisation of healthcare." Note: This study is the source of the headlines "Obese women more likely to get Long Covid"
Study suggests persistent immune activation and long COVID correlate independently with severe COVID-19, News Medical, 30 November 2022
Long COVID brain fog and fatigue negatively impact all facets of daily life, News Medical, 27 November 2022. "The results suggested that brain fog and fatigue impacted all aspects of the patient's life, including daily activities, interpersonal relationships, and employment." Patients were often better in the morning, symptoms waxed and waned and were unpredictable, making planning difficult.
A Review of Long COVID With a Special Focus on Its Cardiovascular Manifestations, Cureus, 27 November 2022.
Australia's latest wave of infections has long-COVID sufferers and the vulnerable worried, ABC, 26 November 2022. "Australians should expect an escalating accumulation of morbidity and mortality if COVID is continued to be allowed to spread, more or less, unchecked through the population."
Long Covid stigma: Estimating burden and validating scale in a UK-based sample, PLOS, 23 November 2022. "This study aimed to develop and validate a Long Covid Stigma Scale (LCSS); and to quantify the burden of Long Covid stigma… The prevalence of experiencing stigma at least 'sometimes' and 'often/always' was 95% and 76% respectively."
Queensland quibbles over long COVID details as cases rise, SMH, 23 November 2022. "Queensland Health says it does not believe there is a high incidence of long COVID in the state, despite experts saying the number of cases will climb."
Why isn't anyone talking about who gets long COVID?, The Conversation, 17 November 2022. "It might be that this debilitating disease is largely overlooked because of who gets it: Almost 80 per cent of longhaulers are women. And in the United States, where our guest on this episode is from, many of those suffering from the prevailing conditions of COVID are women of colour, with Black and Latinx people most likely to get the illness."
It's Really, Really Worth Trying to Avoid Getting COVID Multiple Times, Self, 15 November 2022. A new study found people are more likely to develop long COVID or other serious health problems if they're infected more than once.
'I'm not getting better': Jackie O steps away from radio show to recover from long Covid, The Guardian, 14 November 2022
Paxlovid may reduce long covid risk for some patients, VA study finds, Washington Post, 7 November 2022. "The report, which draws on databases from the Department of Veterans Affairs, examined more than 9,000 people who took Paxlovid, along with an almost 50,000-strong control group of people who tested positive but did not take the drug. It showed an approximately 25 percent reduction in 10 of the 12 symptoms studied, including the common complaints of lingering fatigue and brain fog. The results held true whether or not people had been vaccinated or had a prior infection."
8 Things You Should Never Say to Someone With Long COVID, The Daily Beast, 7 November 2022. "You should do apple cider vinegar shots every morning."
Life stressors significantly impact long-term outcomes and post-acute symptoms 12-months after COVID-19 hospitalization, Journal of the Neurological Sciences, 5 November 2022. "Life stressors contribute substantially to worse functional, cognitive and neuropsychiatric outcomes 12-months after COVID-19 hospitalization."
COVID-19 activates similar response to Parkinson's disease, study suggests, ABC, 2 November 2022. "We identified that the cells became highly inflammatory, we like to think of them as angry microglia, and they turned on a pathway called the inflammasome, which we have previously shown is linked to certain brain diseases, like Parkinson's and Alzheimer's," Professor Woodruff said.
October 2022
Long COVID: how lost connections between nerve cells in the brain may explain cognitive symptoms, The Conversation, 28 October 2022. "In a recent study, we created brain organoids a little bigger than a pinhead and infected them with SARS-CoV-2, the virus that causes COVID-19. In these organoids, we found that an excessive number of synapses (the connections between brain cells) were eliminated – more than you would expect to see in a normal brain.One of the crucial functions of the brain's immune cells, or microglia, is to prune these inactive synapses.The exaggerated elimination of synapses we saw in the COVID-infected models could explain why some people have cognitive symptoms as part of long COVID."
I'm a Physician Battling Long COVID. I Can Assure You It's Real, Medscape, 27 October 2022. "Here I am, one of the leading experts in the country on caring for people with long COVID, featured in the national news and having testified in front of Congress, and now I am part of that lived experience. Me — a healthy athlete, with no comorbidities, a normal BMI, vaccinated and boosted, and after an almost asymptomatic bout of COVID-19, a victim to long COVID."
Long COVID funding non-existent in federal budget, despite US and UK spending millions in research, ABC, 27 October 2022. Australia is giving no money to Long Covid research. "People need help — right now. We need research to understand the condition more. And it needs to be taken seriously."
Ivermectin for COVID-19: Final Nail in the Coffin, Medscape, 26 October 2022
Over 2,000 Guardian readers told us about their long Covid fight. Here are their stories, The Guardian, 25 October 2022
Long-COVID post-viral chronic fatigue and affective symptoms are associated with oxidative damage, lowered antioxidant defenses and inflammation: a proof of concept and mechanism study, Nature.com, 24 October 2022
For Kids with Long COVID, Good Treatment Is Hard to Find, Time, 24 October 2022
Epstein-Barr virus reactivation may contribute to long COVID fatigue, Healio, 24 October 2022. "Epstein-Barr virus replication may be a cofactor in a subgroup of patients who develop long COVID fatigue, although other potential contributing factors need to be evaluated as well, according to a letter published in Allergy."
In Cleveland and beyond researchers begin to unravel the mystery of long COVID-19, Cleveland.com, 22 October 2022. "McComsey, who has spent the last two decades studying HIV, said that the data they have found so far paints a picture that is eerily familiar… To be clear, McComsey isn't suggesting that the viruses themselves are similar. Coronaviruses are not retroviruses like HIV, nor are they sexually transmitted like HIV. But it's the way they make the people they infect sick that caught her attention. It hides in the body and continues to wreak havoc in the various organ system by driving inflammation and disrupting the immune response."
Addiction drug shows promise lifting long COVID brain fog, fatigue, KSL.com, 19 October 2022. "Unlike treatments aimed at addressing specific symptoms caused by COVID damage to organs, such as the lungs, low-dose naltrexone may reverse some of the underlying pathology driving symptoms, they said."
How will long Covid play out over the coming years? Eight experts weigh in, The Guardian, 16 October 2022.
A young life, interrupted: finding hope – and an identity – while suffering from long Covid, The Guardian, 15 October 2022. "One question dominates 24-year-old Ravi Veriah Jacques's thoughts: who will he be after his illness?"
Long Covid is said to affect white middle-aged women more – but data suggests otherwise, The Guardian, 15 October 2022. "Race, wealth and free time dictate who gets to be treated for long Covid – making the condition 'the new pandemic"
Long COVID took their health. Then it took their money. Boston Globe, 15 October 2022. The Globe spoke with 10 self-identified "long-haulers" in New England, all of whom testified to the toll the condition has taken on their careers and finances
4 out of 5 people with long COVID have trouble performing day-to-day activities: CDC. ABC News, 6 October 2022 "81% of adults with ongoing symptoms of COVID lasting three months or longer — or four out of five adults — are experiencing limitations in their daily activities compared to before they had the virus. Additionally, 25% said they were experiencing significant limitations."
I was an athlete – now I'm 30 and in a wheelchair thanks to long Covid, The Guardian, 14 October 2022. "I know a runner, a fighter, a coach are still in me. But I don't feel like her any more"
When doctors become long Covid patients – and still aren't believed, The Guardian, 14 October 2022. "Under her new doctor's guidance, Bar-Eli went through rehabilitation, which involved doing everyday activities while wearing monitors. Seeing exactly at what point her heart rate jumped and oxygenation level dropped taught her to pace herself and set limits."
The astounding impact and reach of long Covid, in numbers and charts, The Guardian, 13 October 2022. "Something about Covid causes a significant portion of people to experience symptoms long after the initial sickness – so what do the studies tell us?"
The data is clear: long Covid is devastating people's lives and livelihoods, The Guardian, 12 October 2022. "The impact of long Covid needs urgent action – and there are five key elements to drive the effort forward, writes the WHO director general."
Nearly Half of Covid Patients Haven't Fully Recovered Months Later, Study Finds, New York Times, 12 October 2022. "A study of tens of thousands of people in Scotland found that one in 20 people who had been sick with Covid reported not recovering at all, and another four in 10 said they had not fully recovered from their infections many months later."
Long COVID Features Many Lasting Effects, Study Says, WebMD, 12 October 2022. "Between 6 and18 months after infection, 1 in 20 people hadn't fully recovered, and 2 in 5 had only improved somewhat."
Feeling Winded After Your Workout? Long COVID May Claim Another Symptom, UCSF, 12 October 2022. "UCSF-ZSFG Study Shows Lingering Virus May Age Exercise Capacity By 10 Years… The findings suggest that the long COVID cohort in this subgroup may have reduced oxygen extraction in the muscles, irregular breathing patterns, and a lesser ability to increase heart rate during exercise to match cardiac output. In addition, there was evidence of deconditioning, which occurs to some extent after most physical illnesses that result in inactivity, the researchers noted. Importantly, not all the findings could be attributed to deconditioning."
What Doctors Still Don't Understand About Long COVID, The Atlantic, 5 October 2022. "What's clear today is that long COVID can be many different things. That may confound our efforts to categorize it and discuss its implications, but the sheer variety should not get in the way of care for all who are suffering."
Long-COVID Seems To Run In Family Households, And It's Unclear Why, IFL Science, 4 October 2022. "The number of persistent symptoms in individuals was closely linked to the number of persistent symptoms in other household members. This remained true whether the person had tested positive for COVID-19 or was just exposed to the virus."
Long-term neurological sequelae of SARS-CoV-2 infection, Nature, 3 October 2022. "This study shows that individuals who had COVID-19 have an increased risk of developing a wide range of neurological complications after 12 months, even in those who were not hospitalized for infection."
Long Covid Has Become a Parallel Pandemic, Washington Post, 2 October 2022. "The government has put most of its resources behind solving the mystery of what causes long Covid. That's essential work, but very little of it is devoted to studying how to treat and prevent long Covid. Covid long-haulers deserve better."
Vaccinated individuals infected with Omicron less likely to experience long COVID symptoms, News Medical, 2 October 2022
Long Covid: What science has learned about the loss of smell and taste, CNN, 1 October 2022
September 2022
Solving the riddle of Long Covid, Healio, 30 September 2022. "If you asked me a year ago for the number of approved therapeutics for long COVID, I would have said zero. And guess what? It's still zero," said Al-Aly, who called the lack of treatments "a major deficiency. We really need to promote awareness [of this]," he said. "This is really a sore point. People are hurting with long COVID … and they want treatment yesterday."
Jane's Addiction Guitarist Dave Navarro Sitting Out Upcoming Arena Tour Due to 'Long COVID' Battle, Billboard, 30 September 2022
Could Long COVID Become Lifelong COVID? WebMD, 29 September 2022. "Asked about the odds of long COVID becoming lifelong COVID, Truong says, "We don't know, is the short answer. I definitely have patients infected in March of 2020 who have had persistent symptoms for the last couple years, and then our patients who get better at 3 to 6 months. So, it's really difficult to answer." Among people with long COVID, "I think there will be a subset … that are going to have symptoms for a long time," says Christian Sandrock, MD.
Covid might have changed people's personalities, study suggests, The Guardian, 29 September 2022
Access to long-COVID care financially, racially disproportionate, Becker's Hospital Review, 27 September 2022
Mounting evidence shows autoimmune responses play a significant role in long Covid, NBC News, 28 September 2022. "The latest evidence for this came in a study published last week in the European Respiratory Journal. It found that people who had long-lasting Covid symptoms were more likely to have markers of autoimmune disease in their blood than people who'd recovered quickly from the coronavirus or had never gotten infected."
Lingering cardiac involvement in previously well people after mild COVID-19, Nature, 26 September 2022. "Through cardiac MRI and heart injury biomarker measurements, this study takes an important first step in probing the underlying cardiac pathology of patients with COVID-19 who have cardiac symptoms that linger over many months, such as shortness of breath, heart palpitations, and chest pain."
Seeing through the fog: cognitive impacts of long COVID, Johns Hopkins Newsletter, 26 September 2022
Long COVID Has Forced a Reckoning for One of Medicine's Most Neglected Diseases, The Atlantic, 26 September 2022. "Every ME/CFS patient I've talked with predicted long COVID's arrival well before most doctors or even epidemiologists started catching up. They know more about complex chronic illnesses than many of the people now treating long COVID do. Despite having a condition that saps their energy, many have spent the past few years helping long-haulers navigate what for them was well-trodden terrain."
Why You Should Rest—a Lot—If You Have COVID-19, Time, 23 September 2022. Friedly recommends anyone recovering from COVID-19 stay away from high-intensity exercise for at least a couple weeks and avoid pushing through fatigue. For people who have already developed Long COVID, rest can also be useful for managing symptoms including fatigue and post-exertional malaise (PEM), or crashes following physical, mental, or emotional exertion. The U.S. Centers for Disease Control and Prevention recommends "pacing," an activity-management strategy that involves rationing out activity and interspersing it with rest to avoid overexertion and worsening symptoms.
Desperate Long COVID Patients Turn to Unproven Alternative Therapies. WebMD, 22 September 2020. – "McNulty understands that but says many people who live with long COVID turn to these treatments out of a sense of desperation. 'When it comes to this condition, we kind of have to be our own advocates. People are so desperate and feel so gaslit by doctors who don't believe in their symptoms that they play Russian roulette with their body," she says. "Most just want some hope and a way to relieve pain."
Long covid—an update for primary care. BMJ, 22 September 2020 – A guide for doctors who are dealing with Long Covid patients.
Why fatigue from long COVID goes beyond simply feeling tired. News-Medical, 21 September 2022 – Overall, the study observed increased expression of inflammatory genes and elevated levels of cytotoxic T cells and serum pro-inflammatory cytokines in long COVID patients with severe fatigue. While non-fatigued long COVID patients exhibited other immunological features such as naive CD4+ lymphocytopenia and elevated serum levels of certain interleukins, the increase in CD8+ T lymphocytes is associated mostly with severe fatigue.
Long covid: protesters outside the White House demand better care. BMJ, 20 September 2022
Have Long COVID? Here's Where to Go for Care (US Focus). WebMD, 20 September 2022
The causes of Long Covid. Harvard Magazine, September 2022 – There are at least four hypotheses about the causes of long COVID, ranging from inflammation, to a virus-triggered autoimmunity that leads the body to attack itself to—most intriguingly—persistence of viral reservoirs in the body.
What Long COVID Is Like For These 14 People. Teen Vogue, 20 September 2022 – 14 long-haulers describe life with long COVID
Long COVID Experts and Advocates Say the Government Is Ignoring 'the Greatest Mass-Disabling Event in Human History'. Time, 19 September 2022 – "We're in the middle of the greatest mass-disabling event in human history," says Long COVID patient and advocate Charlie McCone. And unless people wake up to the long-term consequences of COVID-19, it is "going to continue taking folks out like fish in a barrel."
Dreaded Side Effect Rears Its Ugly Head in Latest COVID Variant. The Daily Beast, 18 September 2022 – Repeated infections come with elevated risk of a whole host of problems that, not coincidentally, match the symptoms of long COVID, a team of scientists at Washington University School of Medicine and the U.S. Veterans Administration's Saint Louis Health Care System concluded in a study this summer. The more reinfections, the more long COVID.
Analysis of post COVID-19 condition and its overlap with myalgic encephalomyelitis/chronic fatigue syndrome. Journal of Advanced Research. Sept 2022 "The onset, progression, and symptom profile of long-COVID patients have considerable overlap with ME/CFS."
Covid-19: WHO urges action as 17 million long covid cases are estimated in Europe. BMJ, 14 September 2022 – "Long covid symptoms were grouped around three symptom clusters: respiratory, cognitive, and fatigue or mood swings. The modelling found that females were twice as likely as males to experience long covid, classified as symptoms lasting at least three months. The risk increases dramatically among severe covid-19 cases needing hospital admission, with one in three females and one in five males likely to develop long covid. A recent study published in the Lancet reported that one in eight (12.7%) patients with covid-19 was likely to experience long term symptoms."
One of Long COVID's Worst Symptoms (Brain Fog) Is Also Its Most Misunderstood. The Atlantic, 12 September 2022 – "Long-haulers with brain fog say that it's like none of the things that people—including many medical professionals—jeeringly compare it to. It is more profound than the clouded thinking that accompanies hangovers, stress, or fatigue. For Davis, it has been distinct from and worse than her experience with ADHD. It is not psychosomatic, and involves real changes to the structure and chemistry of the brain."
Psychological distress before COVID-19 infection may increase risk of long COVID. Harvard School of Public Health, 7 September – "Psychological distress, including depression, anxiety, worry, perceived stress, and loneliness, before COVID-19 infection was associated with an increased risk of long COVID."
Long COVID: How researchers are zeroing in on the self-targeted immune attacks that may lurk behind it – "Our new study makes clear that newly developed self-antibodies can persist for months. What's more, in work currently under development and not yet peer-reviewed, we find that these responses are not restricted to those recovering from severe illness, and are readily identifiable in a large subset of long COVID-19 patients who had recovered from more mild illness as well." The Conversation, 1 September 2022
The First Diagnostic Test for Long COVID Will Formally Launch in Europe in September – A diagnostic blood test developed by IncellDx incellKINE has been approved for use in Europe. IncellDX is the for-profit company run by Bruce Patterson. Yahoo Finance, 1 September 2022 Note: A Mother Jones article on IncellDx was critical of the company's methods.
August 2022
Life as a young person with long COVID: "You go through so many phases of up and down, it's like being on a rollercoaster forever". World Health Organization site, 30 August 2022
New data shows long Covid is keeping as many as 4 million people out of work – "Around 16 million working-age Americans (those aged 18 to 65) have long Covid today. Of those, 2 to 4 million are out of work due to long Covid. The annual cost of those lost wages alone is around $170 billion a year (and potentially as high as $230 billion)." Brookings, 24 August 2022
Could tiny blood clots cause long COVID's puzzling symptoms? – A summary of the theory that microclots in the blood is causing Long Covid, Nature, 24 August 2022
Long COVID: why it's so hard to tell how many people get it – A discussion of the difficulties in estimating Long Covid numbers – studies are often pre-vaccine, with the Alpha variant. The Conversation, 24 August 2022
Long Covid mimics other post viral infections – "According to some estimates, about half of people with long COVID will meet the criteria for ME/CFS, whether they're given that specific diagnosis or not… "One of the hardest parts about ME/CFS is how to show that it's real when it's invisible. Most people agree that COVID is real and therefore if somebody gets ME/CFS after COVID, it's real," she says." WebMD, 24 August 2022
Blood-clotting imbalance persists in Long COVID, research finds – "The study found that the blood of patients with Long COVID syndrome had higher levels of a blood-clotting booster called von Willebrand Factor (VWF), and lower levels of a protein that normally breaks down VWF, called ADAMTS13. Their analysis also suggests that blood vessels were still being damaged long after the initial infection, and that specific cells of the immune system were at abnormal levels in patients with Long COVID." Science Daily, 23 August 2022
Is Oxygen the Answer to Long Covid? – Double-blinded study of 79 patients given hypobaric oxygen therapy in Israel, those who received the therapy reported improved symptoms. Wired, 17 August 2022. Study results published in Nature here.
Blood abnormalities found in people with Long Covid – "The Long Covid patients… had low levels of cortisol, a stress hormone that helps the body control inflammation, glucose, sleep cycles, and more. Features of their T cells indicated their immune system was battling unidentified invaders, perhaps a reservoir of SARS-CoV-2 or a reactivated pathogen such as Epstein-Barr virus." Science, 16 August 2022
Persistence of SARS-CoV-2 and Long COVID – The spike in the blood – "The overall conclusion by these researchers is that there is clear evidence for the maintenance of SARS-CoV-2 reservoirs in PASC patients, though it could also be the case that we are seeing the persistent production of defective virus." Doherty Institute, 15 August 2022
Long Covid clinic wait times blow out as Australia's health experts call for national approach – Guardian, 14 August 2022
How long will it take to undersand Long Covid? – Feature looking at possible causes. Ars Technica, 13 August 2022
What are the unique traits of Long Covid – Preprint study suggests possible biomarkers for Long Covid including increased immune reaction and lowered cortisol. News Medical Net, 12 August 2022
It's Not Just Long Covid – Post-viral illnesses include Long Mono and Long Flu. The Atlantic, 12 August 2022
What to know about Long Covid in kids – Symptoms, risk factors and prevention, Time Magazine, 12 August 2022
COVID's long shadow: Symptoms may last 2 to 18 months – "More than one in four pediatric patients hospitalized for COVID-19 or multisystem inflammatory syndrome in children (MIS-C) had persistent symptoms or impaired activity 2 to 4 months later, and a Norwegian study revealing that nearly half of patients with mild COVID-19 still had symptoms after 1 year." CIDRAP, Uni of Minnesota, 12 August 2022
VIDEO: Researchers identify link between long COVID and chronic fatigue – Griffith University (Australia) researchers have found Long Covid patients have the same issues with calcium ion channels as people with ME/CFS. This could lead to a biomarker test. ABC News, 11 August 2022
George Garton's battle with Long Covid: 'I'd walk two minutes and need to sit down for half an hour' – English cricketer's six month experience of Long Covid (he seems to have recovered. ESPN, 11 August 2022
Long-COVID treatments: why the world is still waiting – A summary of current theories as to the cause of Long Covid and some of the treatment trials being conducted. Nature, 9 August 2022
What are the 3 main types of Long Covid? – Researchers have identified 3 phenotypes. Medical News Today, 5 August 2022
Why exercise doesn't help people with Long Covid – Discussion of post exertional malaise (PEM): "In a study published in April, people with long COVID told researchers at Britain's University of Leeds they spent 93% less time in physical activity than they did before their infection. But multiple studies have found deconditioning is not entirely – or even mostly – to blame." WebMD, 3 August 2022
July 2022
Long COVID: with no treatment options, it's little wonder people are seeking unproven therapies like 'blood washing' – "As a treatment for long COVID, apheresis is proposed to filter out circulating factors in the blood that are involved in inflammation and clotting. It has yet to be proven effective in any meaningful trial in this context, and is not without risks." – The Conversation, 22 July 2022
Rebecca has had long COVID for two and a half years. She describes it as a "living death". ""I've lost the ability to problem solve, organise my thoughts, sleep properly, communicate concisely, and even just listen and absorb information. It's hellishly frustrating and hurts," said Rebecca." – MamaMia, 22 July 22
Long Covid risk associated with certain symptoms – "People who reported sore throats, headaches, and hair loss soon after testing positive for COVID-19 may be more likely to have lingering symptoms months later, according to a recent study published in Scientific Reports." – WebMD, 21 July 2022
VIDEO: Risk of long COVID accumulates with reinfection: Norman Swan – Dr Norman Swan says as COVID-19 reinfections rise, long-term health issues are likely to compound. ABC News, 19 July 2022
Covid study finds millions have long-term smell or taste problems – About 5% of adults infected with the coronavirus may develop long-lasting changes to their sense of smell or taste, according to the research published in the BMJ. – The Guardian, 28 July 2022
Study reveals possible cause of long Covid 'brain fog' "If further studies are able to prove that the formation of these amyloids is causing long-Covid then anti-amyloid drugs developed to treat Alzheimer's might be used to treat some of the neurological symptoms of long-Covid," said Dr Mirren Charnley, a postdoctoral researcher at Swinburne. National Herald India, 5 July 2022