Documenting your health is important when you have a chronic disease like Long Covid. Knowing what your body is up to will help you to establish baselines for pacing and also help you self-advocate with your doctor. Trackers, wearables and devices are a handy way to get objective health measurements.
The market for wearable devices that track things like heart rate stress and sleep is large and growing. Most wearables are designed mainly as sports / activity trackers and they don't claim to be health devices. Even so, they can be adapted and used for health monitoring when you have Long Covid. Many of these wearables can be expensive so be on the lookout for sales or seek out second hand or older versions if money is tight. Even a simple wearable can help you get an idea of how your health is going.
The wearables discussed on this page are the ones commonly used by chronic illness communities, particularly those with ME/CFS.
NOTE: I was not paid to promote the apps listed here. They are either personal recommendations or what other people have suggested. Or else, they're just listed because they might be useful.
Advertisement
The Geek's Guide To Long Covid is available as an ebook!
You'll find a comprehensive guide to using wearables, apps and technology to cope with Long Covid. It offers detailed instructions on pacing, heart rate monitoring, HRV, POTS, deep breathing, tVNS, air purifiers, CO2 monitors and lots more.
Available from Amazon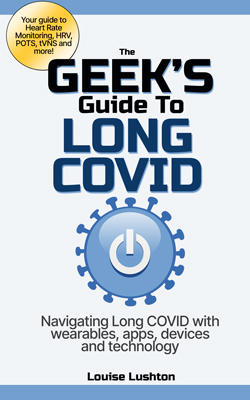 Garmin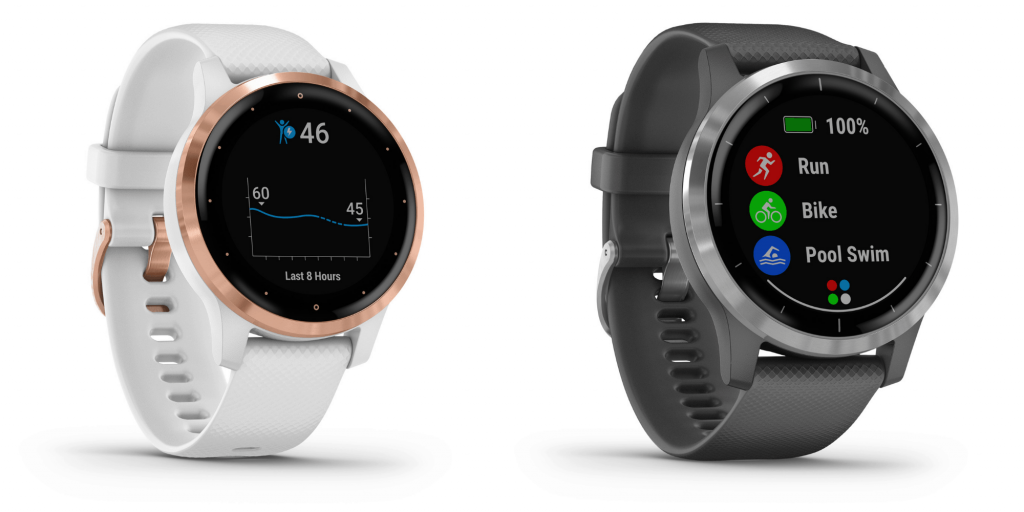 Garmin has a range of high quality wearables that tend to be expensive but offer a lot of useful options. There's the usual ability to track exercise, step counts, distance, time etc. And there's also sleep tracking, stress readings, respiration tracking, pulse oximeter, hydration and menstrual tracking, among others. You can also add extra apps for free or for a price.
A good reason to get one is the Body Battery feature. This is very handy if you are looking to pace or conserve energy. Body Battery (and the Stress score) tracks your heart rate variability and heart rate throughout the day, correlating it with any activity and how well you sleep. It gives you an idea of how much stress your body is under at any given time and this can equate to how much energy you have to accomplish the day's tasks. The Battery takes a couple of weeks to adjust to your individual rhythms and it's better at detecting stress when you're sitting still.
You can use some Garmin wearables for heart rate monitoring and pacing. HRM pacing typically involves trying to spend as much time under a maximum heart rate (e.g. 100bpm) as possible. There's a general setting where you can tell the wearable what your maximum heart rate is and it will then colour-code your heart rate graphs according to whether your daily activity went over your maximum HR threshold (e.g. If you've had a busy or bad day, there'll be a lot of red). It can tell you how many minutes you spend over the maximum threshhold during an activity.
You can also set some Garmin wearables to give an alarm if your heart rate exceeds a threshold (instructions here). This is useful for pacing as it lets you know you're doing too much and should rest or pace an activity. Be aware the alarm has a slight delay so if you are strictly pacing it's not ideal. This alarm will only work if you are running an activity at the time. The yoga activity is the best option here and lets you see stress levels. Unfortunately Garmin updated their software a few months ago and you now can't see real-time stats in the Connect app until your activity is finished and uploaded. Running an activity all day uses up the battery much quicker so you'll need to factor in recharging time.
Garmin watches offer sleep tracking and pulse oximeter readings. Be aware that these can be useful but aren't known for their accuracy.
You can download a variety of apps onto the watch. Of particular use is the Test HRV app which can take a heart rate variability reading from your wrist over 3 minutes.
At time of writing there are two styles of Garmin wearables best suited to health tracking for Long Covid: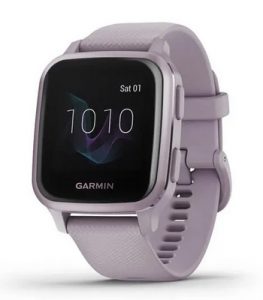 Venu (range goes from Venu 2 Plus down to Venu Sq). This wearable has body battery, stress, heart rate alarms with activities, wrist-based heart rate tracking, pulse ox, sleep, respiration, menstrual tracking, hydration tracking, mindfulness and the usual sports tracking ability. It can also connect with your phone, deliver messages, sync with Spotify and it offers animated workouts via the watch. The Venu 2 Plus model offers the "Health Snapshot" feature which will "Log a 2-minute session to record key stats, including heart rate2, heart rate variability, Pulse Ox3, respiration and stress. Then generate a report with those stats to share via the Garmin Connect app on your compatible smartphone." This may be helpful, although you can do this manually with other watches. The Venu Sq is cheaper and good value for money.
Vivoactive 4 (and 4S which is smaller). This wearable has body battery, stress, heart rate alarms with activities, wrist-based heart rate tracking, pulse ox, sleep, respiration, menstrual tracking, hydration tracking, mindfulness and the usual sports tracking ability. It can also connect with your phone, deliver messages, sync with Spotify and it offers animated workouts via the watch.
Fitbit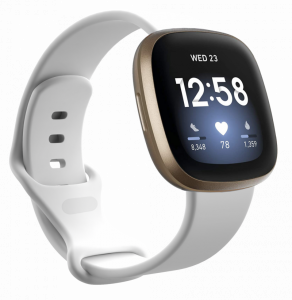 Fitbit is the best known brand of activity tracker and they offer a relatively cheap way to get started with wearables. Fitbit devices connect to the Fitbit app and provide info on heart rate, sleep, exercise stats (distance, speed, time etc), heart rate variability, calories, step count, SpO2, temperature and other measurements. Because they're so popular there's a lot of cheap, second-hand models available (although be aware that older versions may not have as many features). Fitbit is a good option for Long Covid health monitoring.
Fitbit's sleep tracker is one of the best on the market so if sleep tracking is important to you, give some serious consideration to this brand. In other areas it can be hit and miss. In the past Fitbit has been criticized for inaccuracy, particularly with regard to heart rate, step count and calorie counting. Lately it seems like Fitbit is improving its algorithms and accuracy is improving. Here's some tips to tweak accuracy on Fitbit devices.
Versa 3 or 2. The Versa 3 is the best Fitbit option for health tracking at this stage. It's relatively cheap, offers heart rate monitoring and tracking of HRV, SP02, skin temperature, sleep, snoring, breathing rate, menstruation and of course fitness activities (time, distance, heart rate, exercise zones etc). It has a built in GPS, is swim proof and syncs to music and pay apps, among other options. If you pay for a Premium subscription, you'll get more HRV data over a longer period of time and better sleep tracking, plus a bunch of online content. The Versa 2 also has two free apps that enable heart rate alarms and HR monitoring: AlertMe and HRPacing. The latter is specifically made for ME/CFS patients who are looking to pace and keep their heart rate under their anarobic threshold. The app calculates this and gives an alarm if you go over your set heart rate. More info in this video.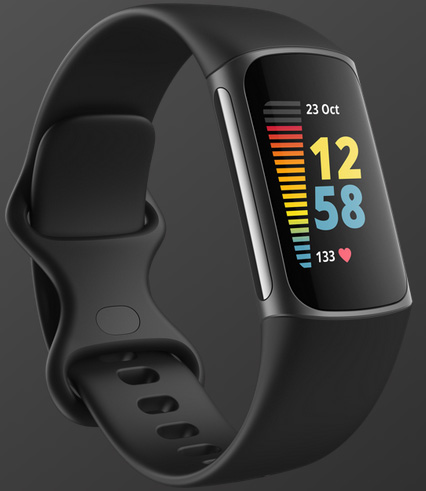 Charge 5 or 4. Fitbit trackers like the Charge 5 offer heart rate monitoring, sleep tracking, SP02 tracking and the usual fitness tracking info, along with a new ECG (electrocardiogram) feature. The Charge offers several extra options through the Premium monthly subscription. These include more advanced sleep monitoring (some of the best you'll get), daily HRV, respiration tracking and access to a lot of online content like meditation and workout videos. Beyond basic notifications on high or low heart rate, you can't use Fitbit trackers for HRM. It should be noted that Fitbit Charge doesn't offer the most accurate representation of high and low heart rates as it smooths out the graph and there is a delay in the on-wrist display. Fitbit is best if you want sleep tracking but it becomes expensive over time due to the Premium subscription.
Polar
Polar are another company that makes high-end exercise wearables backed by science. The wearables come with the Polar Flow and Polar Beat apps. Flow is the main app which tracks health data and fitness activities. It can also conduct a fitness test. Beat is more specific to exercise activities.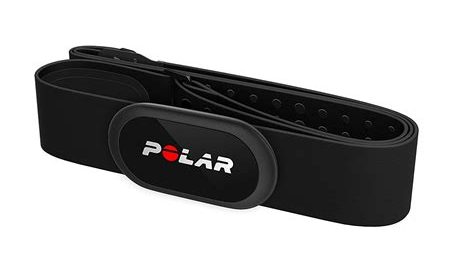 Polar H10. The main recommended Polar wearable is the Polar H10 and Chest Strap. This device is the most accurate way of obtaining heart rate and HRV data because it receives electronic signals directly from the heart. The chest strap has sensors that detect activity from the front of the chest near the heart; attached is the H10 sensor. This device is battery operated and uses Bluetooth to connect with various apps to provide data. It comes with the Polar Flow and Polar Beat apps. You can also connect the H10 to apps like Heart Graph, Elite HRV, SweetBeatHRV and Welltory (see Apps page).
The Polar Verity Sense is an armband that operates in a similar way. It's cheaper but slightly less accurate.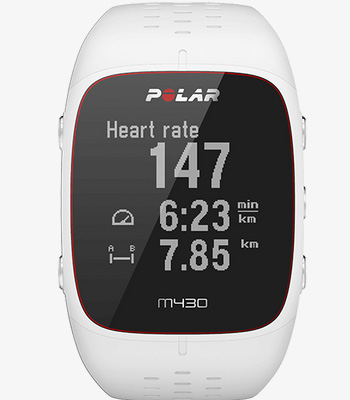 Polar M430. This is one of the older and cheaper Polar watches. It's recommended for heart rate monitoring as it's able to offer heart rate alarms, customizable zones and is pretty accurate when it comes to live heart rate. It also tracks sleep and, fitness activities, of course. Unfortunately it doesn't monitor HRV.
Apple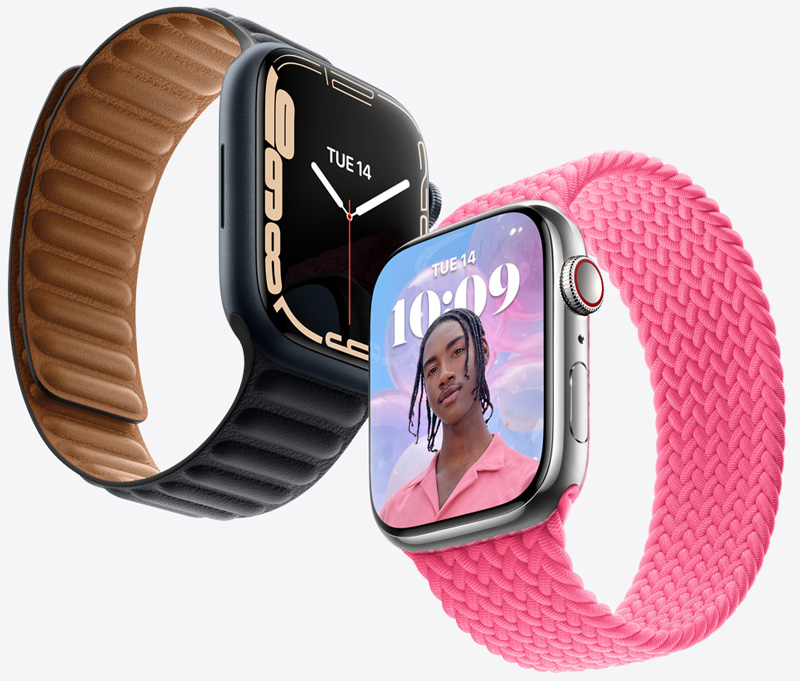 Apple Watch is the high end of the wearable game. If you have an iPhone they sync to Apple Health and to a number of useful third party apps.
Series 7 Apple Watch. This is the newest and most advanced watch from Apple. The 7 has Sp02 monitoring, an ECG app, heart rate notifications and fall detection that alerts emergency services if necessary. It has a larger watch face and is swim proof. In theory, when paired with the Athlytic AI Fitness Coach it can be used for HRV and heart rate monitoring. At this stage, though, it's not the best tracker for Long Covid health management.
Oura Ring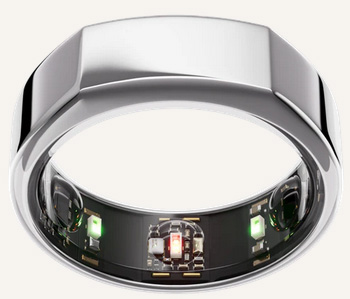 Oura Ring may be an option if skin sensitivities make wearing a watch difficult. The Oura is worn as a ring on the finger and has a focus on health rather than fitness. The Generation 3 version can give HR and HRV readings, temperature info, sleep tracking, Sp02, period prediction and some fitness tracking. Unfortunately the Gen 3 requires a membership plan to see the full data, otherwise you're restricted to are "basic" scores for various features. The Oura doesn't offer heart rate zones or a heart rate alarm so it's not great for HR pacing.
Muse

Muse EEG Headwear is for those who are keen on tracking and improving their sleep. The Muse wearables are worn on the head and the technology tracks your brain activity through EEG and other measurements.
The Muse S2 is designed to be worn all night and can offer insights into the time and quality of your sleep. It has a soft headband and the tracker sits on your forehead overnight. The device offers "digital sleeping pills" which are meditation / relaxation programs designed to put you to sleep. Once asleep, it tracks your movement, heart rate and sounds and reports on light, deep and REM sleep. You'll need to keep your phone plugged in all night as it receives the recorded data.
Muse also offers the Muse 2 meditation headband which is designed to read your brain waves while meditation and thus help to train your mind to be calmer. This headband doesn't track sleep. The Muse wearables aren't cheap and they also require a monthly subscription for more advanced tracking.
Other equipment
Blood pressure monitors
It can be useful to keep track of your blood pressure over time, especially if you are experiencing orthostatic intolerance.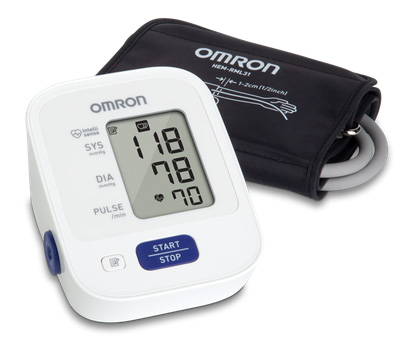 Omron is a well known brand that is often found in doctors' surgeries and their consumer products are very reliable. You can opt for a cheap version like the 3 Series and it will serve you well enough. Alternatively, you can buy more expensive versions that have Bluetooth and larger memory to keep track of past readings. Make sure you follow the instructions for putting on the arm cuff correctly otherwise you will get errors.
Pulse Oximeters
Pulse Oximeters attach to your finger and give accurate pulse and Sp02 (oxygen) readings – often better than you'll get on a wearable. If a wearable is out of your price range they offer a cheap way to get readings for self-testing, though they're not practical for constant use. If you have circulation problems they may not be ideal.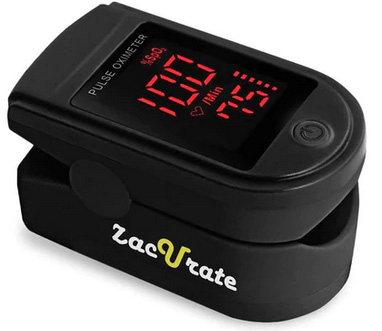 A simple oximeter like the Zacurate Pro Series 500DL won't cost much and can give you basic readings. It's battery operated.
Alternatively you can search for "Bluetooth oximeter" and find a range of devices that feed the oximeter data to various apps. The Pulse Oximetry app in the Apple store supports over 50 brands and doesn't keep data.
For information on useful apps for health monitoring, visit the Apps page.
Note: I have not received any sponsorship or endorsement money to list these devices.