So you're dealing with Long Covid. Firstly, I'm sorry. This sucks.
While we're waiting for the scientists and doctors to find a cure, we're not helpless. We can research, we can document and we can stand up for our own health.
An important part of self-advocacy is keeping track of your own health and making sense of the data. We now have access to a wonderful array of technology that can help us to do this. There's now a good selection of wearables, trackers, devices and apps that can be adapted to health tracking and compiling information.
The Geek's Guide To Long Covid is here to list the best apps, the best wearables and trackers for Long Covid. And to give instructions on how to adapt and best use this technology for data keeping, pacing, heart rate monitoring, HRV tracking and more.
Advertisement
The Geek's Guide To Long Covid is available as an ebook!
You'll find a comprehensive guide to using wearables, apps and technology to cope with Long Covid. It offers detailed instructions on pacing, heart rate monitoring, HRV, POTS, deep breathing, tVNS, air purifiers, CO2 monitors and lots more.
Available from Amazon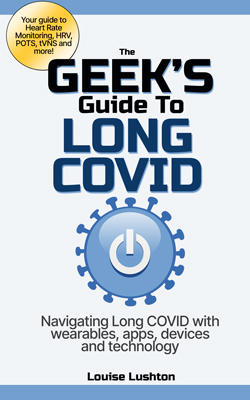 The devices, wearable and apps listed on this site are those that have been recommended by various Long Covid and ME/CFS user groups as being helpful. Individual circumstances vary so the Geek's Guide to Long Covid is intended to help you make your own decisions as to what will be useful.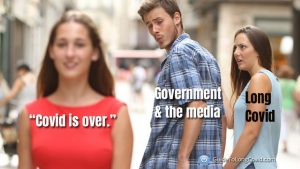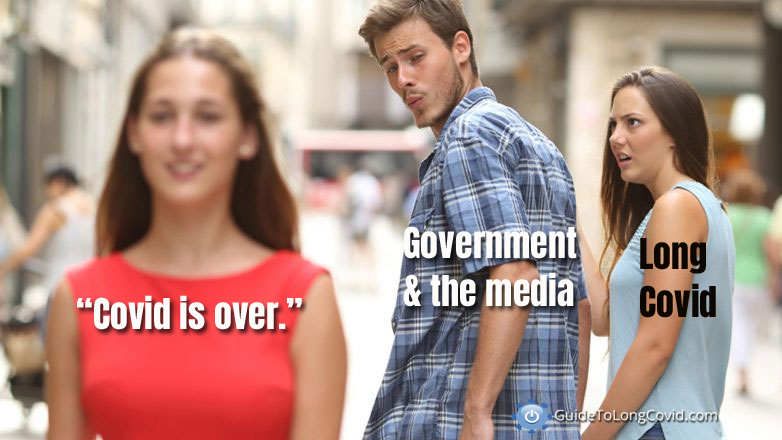 Long Covid sucks so here's some memes about it. Long Haulers need memes to keep their spirits up and to feel seen.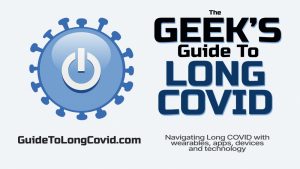 The Geek's Guide To Long Covid is now available as an eBook, currently on Amazon Kindle, with more formats to come. The Geek's Guide To Long Covid ebook is currently available at Amazon The book provides easy-to-read information about using wearables, apps, devices and other technology to cope with Long Covid and assist with ongoing recovery. The book includes up-to-date information about Long Covid, it's symptoms, pathologies and current theories,…
What I Use
I've done my best to research the apps and wearables that are most recommended by Long Covid / ME/CFS user groups. I haven't personally used all of them. Here's what I use (or have used in the past) to keep track of my own health.
Garmin Vivoactive 4S: I originally got this so I could have a heart rate alarm whenever my heart rate went above 95. I used a Yoga activity all day with an alarm added. I also use this for the Body Battery and Stress feature, I find it useful to give me an idea of how I'm coping with exercise attempts and new medication, plus general stress in my life. It's handy for keeping track of steps and measuring occasional walks / ebike rides. I find the heart rate tracking is very accurate. The sleep and Sp02 tracking is not great so I don't pay attention to those.
Fitbit Versa 3. I only recently got this because it was on special. I use the Fitbit for sleep tracking (it's the most accurate) and also for it's nightly HRV measurement. I've also got a Premium subscription which, if I'm honest, isn't worth the money. But it gives me snoring reports and 3 months of HRV data (although I keep all my info in Bearable anyway) I compare the steps with the Garmin to get an idea of an average. The heart rate monitoring is not as accurate and my resting HR always is 5-8 beats higher on Fitbit. The Versa has the ability to add a HR monitoring app called HRPacing which is great. However, I've cut back on HR monitoring as my health has improved a bit.
Polar H10. I originally bought this when I was very serious about heart rate monitoring and I wore it all day for a few months, in tandem with Heart Graph. I've since lost a bunch of weight so the band is too loose to wear upright. I still use it for HRV checking first thing in the morning, in tandem with Elite HRV.
Fitbit Charge 4. My first fitness tracker. It was cheap and useful at the start. Not hugely accurate with HR but still good for step counts, HRV and sleep tracking. I would still recommend getting a Fitbit Charge if you're just starting out. And indeed, there's plenty of second-hand versions available that are perfectly useful.
Bearable. I use this app every single day to compile all my stats and observations. It's very easy to use and I export the data regularly. It's always being updated and the designer regularly checks in with users to see if changes are working and to take suggestions. I've tried a few other data apps but this one is the best.
Elite HRV. Every morning when I wake up I take my HRV reading and compare the RMSSD number with previous readings. Elite also gives me an idea if I'm in a sympathetic or parasympathetic swing. I've tried a few other apps (Welltory etc) but I just like how Elite is set up. It's also got a great biofeedback option where you can do deep breathing and see how it improves your HRV. Good for calming stress. Elite has a lot of useful articles on their site as well.
Heart Graph. I paid a one-off fee for Heart Graph so I could have accurate heart rate monitoring in 2021. Don't use it as much now. It was extremely useful to me when I wanted to convince the doctor to give me a tilt-table test. I was able to record my heart rate during a NASA lean test at home and showed him the graph. It made a difference.
Balance. I took up the offer of one year free membership of the Balance meditation app and was really happy with it, used it a lot. It's got great lessons that helped me to get started in meditation and get better at it. I haven't renewed it because I'm going to give some other apps a try but I kinda miss the voices and sessions.
– Louise Lushton